UBU echoes the first transnational meeting of the RIMAS project in Serbia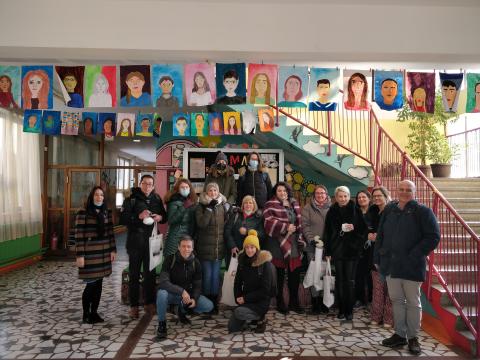 In Novi Sad (Serbia) the transnational meeting of the RIMAS project was held, attended by professors from the Faculty of Education, Miguel Corbí and Vanesa Baños, members of the UBU working group that has participated in this project since 2020.
The conference was dedicated to strengthening ties between the members of the consortium, made up of educational centers from Spain, Serbia, Latvia and North Macedonia, as well as to advance in the development of the project's objectives. Likewise, the hosts took the opportunity to publicize the project among the local authorities, who showed great interest in the project and in the need to continue supporting the proposed initiatives.
The RIMAS project is coordinated by the teachers of the Colegio Virgen de la Rosa, Andrés González and Sara Fernández, also associate professors of the Faculty of Education. The objective of this project is to structure a combined education proposal between the subjects of Physical Education and Mathematics, with the specific objective of reducing gender differences in the participation and motivation of students towards these subjects, as well as promoting a integrated that favors the labor vocation away from the gender roles established in our society.

This project is scheduled to be completed in mid-2023.