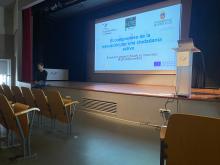 Celebration of the Multiplier Event of the RIMAS Project
On May 30 and 31 we held the Multiplier Event of the Rimas project, organized by the University of Burgos at the Colegio Virgen de la Rosa.
The event consisted of two days; the first of them oriented to the presentation of the project tools and the learning platform; while the second of them, dedicated to the implementation of the Didactic Units of the project.
All this was certified by CFIE for all primary school teachers attending the course.